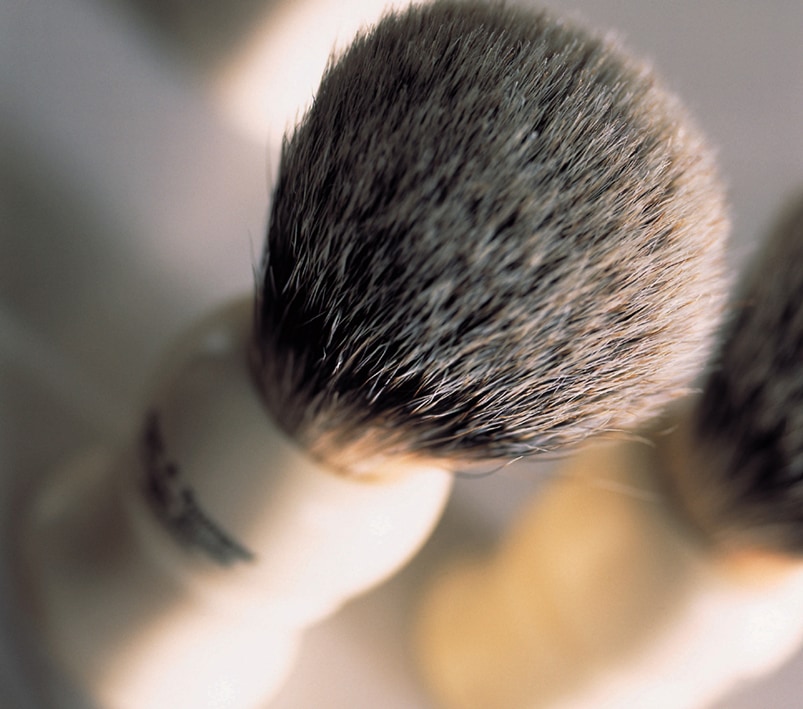 Geo. F. Trumper offers a wide variety of shaving brushes, however with such a selection to choose from, finding your perfect shaving brush can be daunting.  Therefore in order to help you choose your next shaving brush, we have put together a little guide, which should help you to make a decision.
One of the most important factors when selecting a shaving brush is the type of hair that the brush contains, with some being softer and better suited to lathering shaving cream and others being firmer and more suited to shaving soaps. The three types of badger hair that we use at Geo. F. Trumper are classified as Pure, Best and Super with each having a distinctive appearance and firmness.
Pure Badger
Pure Badger hair is the most common type of hair, hence why brushes containing Pure Badger hair are often cheaper than their Best and Super counterparts. It is typically dark in colour and is the firmest of the three types of hair making it particularly suited to lathering shaving soaps, which can take some work with a softer brush. The downside to Pure Badger Brushes is that, due to their firmness, they can sometimes feel coarser than other brushes, which may be uncomfortable for those with particularly sensitive skin.
Best Badger
Best Badger is the midway point between the darker, firmer Pure Badger and the softer and lighter Super Badger making them equally suitable for lathering both Shaving Soaps and Shaving Creams. Brushes that contain Best Badger Hair are also often more densely packed than Pure Badger Brushes and retain water slightly better which helps to easily create a rich lather.
Super Badger
Super Badger is the rarest and most expensive type of badger hair with the hairs being specifically chosen for their fineness, which helps to give Super Badger Brushes their soft feel. The hairs are typically lighter in colour with a distinctive dark band around the middle, which adds an aesthetically pleasing aspect to the brush. Super Badger Brushes can be used with both shaving creams and shaving soaps, however due to their softness, a little extra work may be required when lathering a hard soap.
Synthetic Fibre
For those who prefer to avoid products containing Badger Hair, we also offer a range of Synthetic Fibre Brushes, which have been designed to provide performance comparable to their Badger counterparts, whilst maintaining an appearance similar to a Badger Hair Brush.
Apart from the hair type, there is also the size, shape and colour of the shaving brush handle to consider, however this is more of an issue of personal choice, with some wet shavers preferring a particular style of handle. Whatever your preference you can be sure that it can be found either on our website or in our two London shops.
To view our current range of shaving brushes, please visit the link below:
https://www.trumpers.com/shaving-products/shaving-brushes/