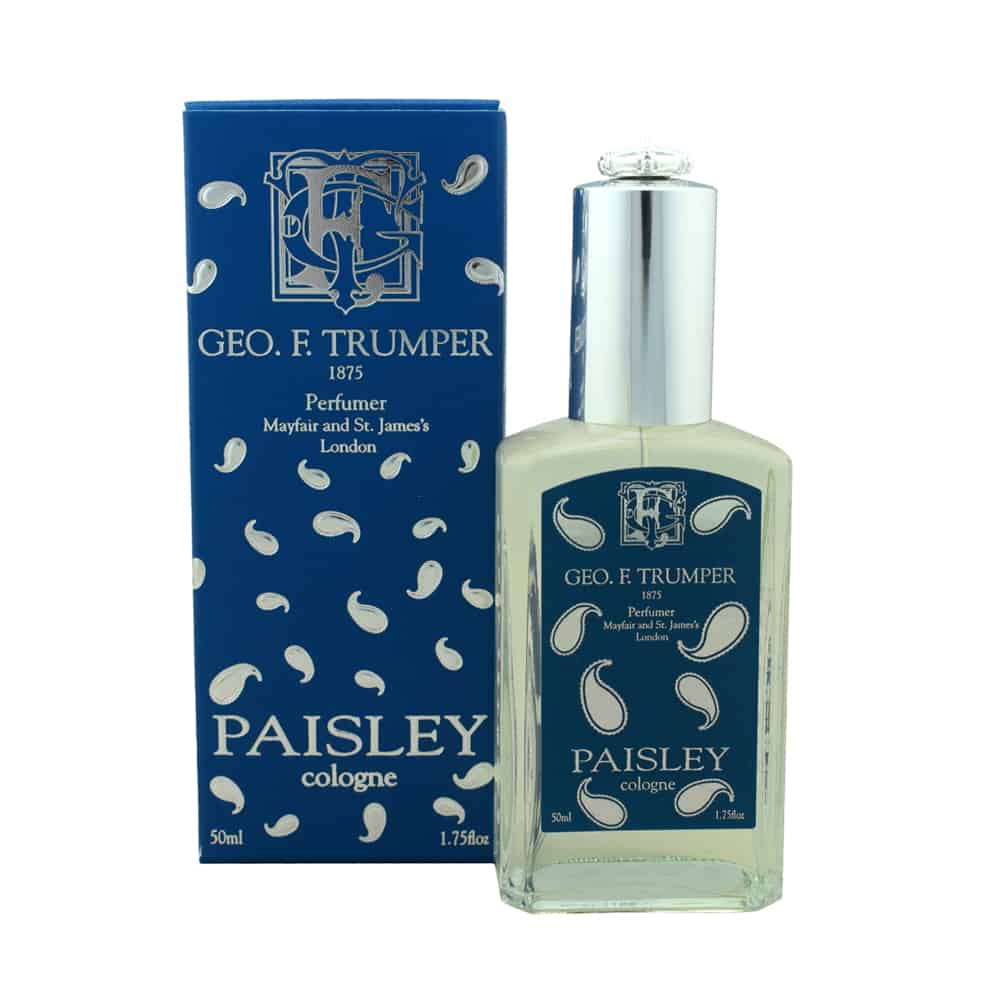 2018 has seen several exciting new products added to the Geo. F. Trumper range. In case you have missed out on any new product announcements, here is a summary of all the new products added this year.
Paisley Cologne 50ml Atomiser – Geo. F. Trumper are proud to introduce an exotic new fragrance presented in our trademark Crown Top 50ml Atomiser, with over 10 layers of essential oils sourced from around the world.
Each layer will react differently on different skin giving this intoxicating cologne a new layer of olfactory delight, notes of cardamon infused with pepper and spearmint, sitting on vetiver and geranium, all balancing on star anise and sensual patchouli. These are finished with a light, subtle orange and lemon note.
Paisley Hair and Body Wash – With the same exotic fragrance as our Paisley Cologne, this wonderful hair and body wash is a delight for the senses. Available in 100ml, 200ml and 500ml.
Spanish Leather Skin Food – We would like to introduce you all to the new member of our famous skin food family. Spanish Leather has now been added to our existing range of Coral Skin Food, Extract of Limes Skin Food and Sandalwood Skin Food.
A versatile requisite of the grooming ritual, skin food is ideal before or after the shave. As a pre-shave for sensitive skin, massaging Trumper's skin food against the growth of the beard lifts and softens the bristles in preparation. Its light non-oily glycerine based formula adds additional nourishment and protection to the skin, allowing the razor to glide with ease. By smoothing on Trumper's skin food after a shave, the new tender skin is soothed, sealed and offered nourishing relief.
Eucris and Spanish Leather Leather Shaving Cream 200g Screw Thread Pots – As requested by many of our customers, our Eucris and Spanish Leather Shaving Creams are now available in our 200g Screw Thread Pot.